Don't you have any idea to giveaway your mum?

First you should know what kind of mother she is. Listen to her and you'll quickly find out.
If your mum saids to you:
Don't forget your jacket or you'll feel cold!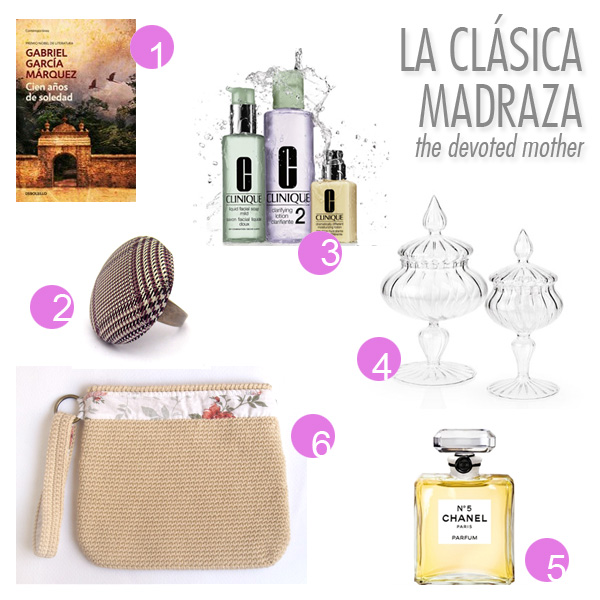 THE DEVOTED MOTHER
1. Book "Cien años de soledad" by Gabriel García Márquez
2. Tweed ring by Díscola
3. Clinique Three steps system
4. Set of two glasses, Zara Home
5. Chanel Nº5 perfume
6. Beige clutch by Silayaya
***
No, you didn't tell me. I haven't received a tweet from you…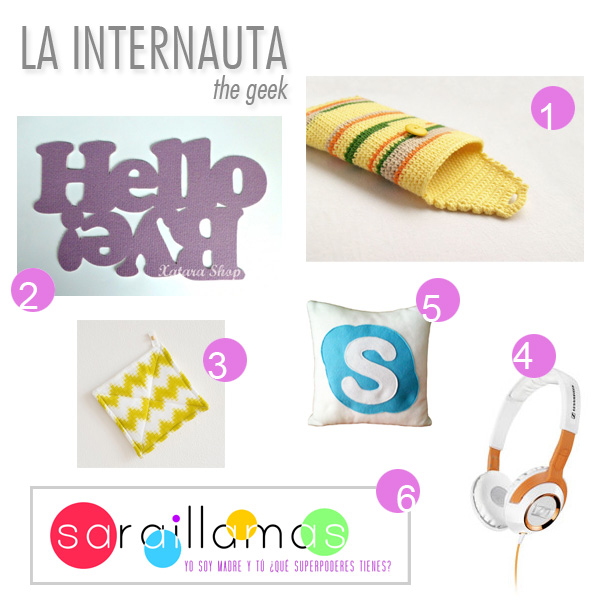 THE GEEK
1. Samsumg Galaxy note case by Silayaya
2. Hello Bye! doormat by Xatara
3. Chevron Pixel Pot Holder by PigeonToeCeramics
4. Sennheiser headphones
5. Cojín Skype by Nerdcuddle
6. Our recommendation to follow Sarai Llamas's blog
***
I don't think I'll be at home. Today I have a class of Pilates and a meeting with my friends.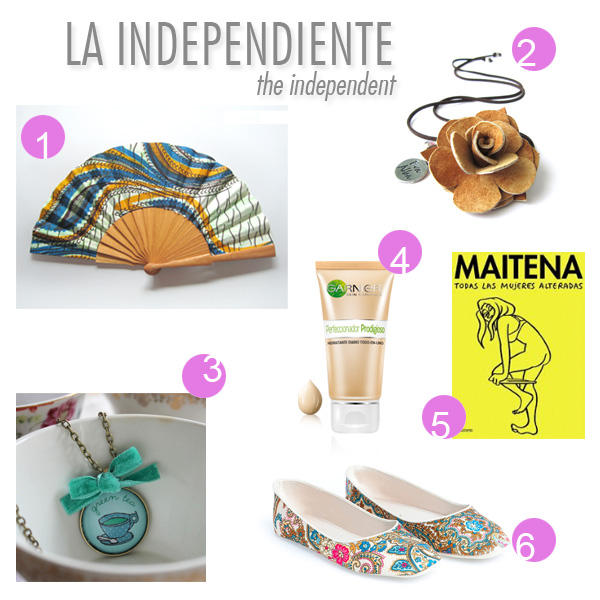 THE INDEPENDENT
1. Hand fan by Olelé
2. Necklace/bracelet by Eva Alba – Artesanía 
3. Green tea pendant by Viana Loves
4. Garnier BB Cream
5. Book "Maitena, todas las mujeres alteradas" by Maitena
6. Sleepers fromZara Home
***
Could you borrow me your Hello Kitty t-shirt?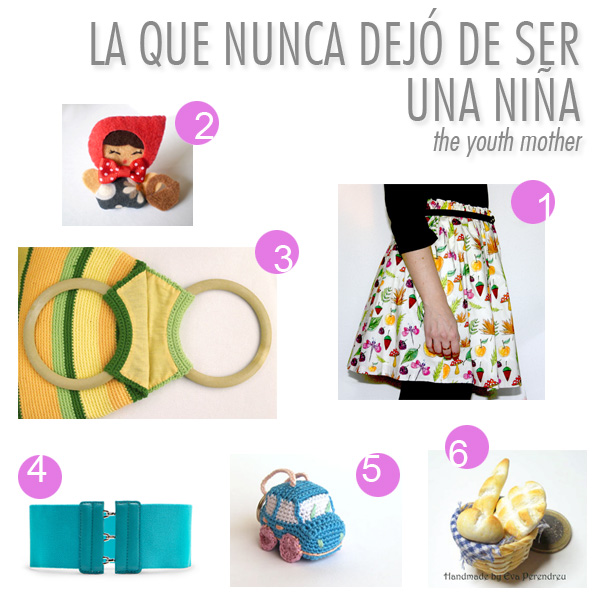 THE YOUTH MOHER
1. Skirt by Lanusa
2. Broche Caperucita roja by Lovely Kikily
3. Striped purse by Silayaya
4. Blue belt from Mango
5. Blue car key ring by Silayaya
6. Basket of bread in miniature by Eva Perendreu
***
I'll call you from NY, we are checking in…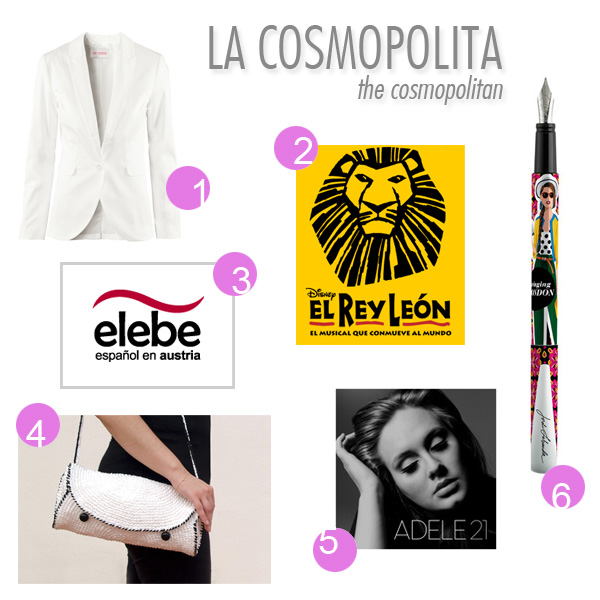 THE COSMOPOLITAN
1. White jacket from H&M
2. Ticket to see El rey león, el musical
3. Contact with Elebe in your next trip to Viena
4. White raffia purse by Silayaya
5. Adele "21"
6. Fountain pen by Jordi Labanda
***
Eat your vegetables!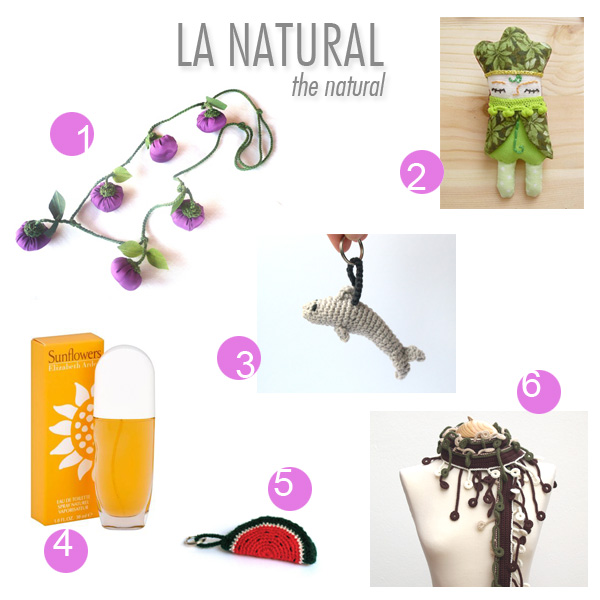 THE NATURAL
1.Necklace from the Vitamine fun collection by Pipocass
2. Broccoli Girl Brooch Necklace by Supercursi
3. Crochet dolphin key ring by Silayaya
4. Sunflowers perfume by Elizabeth Arden
5. Crochet watermelon key ring by Silayaya
6. Crochet scarf by Silayaya
***
Crochet? This is "ganchillo"… And your grandma did it ;-) (Translator's note: This is a joke that only has sense in Spanish.)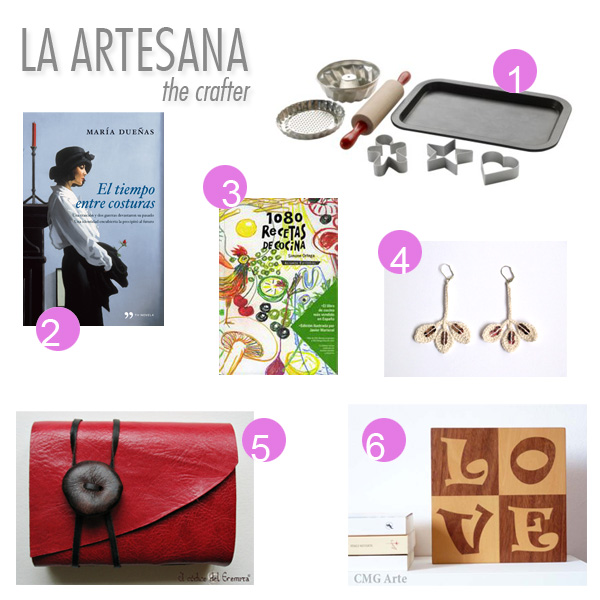 THE CRAFTER
1. Baking tins from Ikea 
2. Book "El tiempo entre costuras" by María Dueñas
3. Book "1080 recetas de cocina" by Simone Ortega
4. Crochet earrings by Silayaya
5. Meditatio by El códice de Eremita
6. Wood Inlay Picture by CMG Arte
***
Maybe your mum has never told you these sentences. In this case you can give flowers. It never fails.
What kind of mother is yours?
And you, mother, what kind of mother are you?
Note from de Silayaya: We have made this post picking up items from online shops, with Silayaya's items and others from great crafters.
Giving away crafts is a beautiful thing. We'll strongly recommend you.