Today we have a different post for you. We want you to know us better. We love cosmetics and each of us has prepared a list of our essential products. Continue reading about our must-have in beauty and more.

* LORENA *
Clinique Chubby stick: I love Clinique's Chubby Sticks because they feel amazing on my lips, just like a coloured balm. This shade is number 14 (curvy candy), very flattering on any skin tone.
Deliplus Vuela: An amazingly fresh fragrance, perfect for summertime. If you like citrus scents, you can´t miss it. You will find it in mercadona, and it is only 8 euros! (100ml)
Accessorize blusher: This shade is "wowzer", a gorgeous cold pink. As far as I know, Accessorize makeup is not available in shops here in Spain, and I got it online (check maquillalia). I knew I wanted it after watching a youtube review by bylaumk. Thanks Laura, I love it!!!
Earrings by Atrio: I got these gourgeous earring through an exchange with Atrio, a Portuguese crafter. Check their online shop on Etsy here.
Neutrogena feet balm: Absolutely a must for summer. It´s amazing how my skin feels and looks after applying this. I love wearing sandals, and even more since I started using this product. I know I will always repurchase it.
Essence I love max mascara: I think that some drugstore mascara can do the job just as well as high end, and this is the case for I love max. It is only 3 euros and works just fine. However, stay away if you like small plastic wands.
Kiko lip balm: I carry it my bag everywhere. I adore how it feels on my lips and I also like that it smells like mint. I will have to repurchase it very soon.
Too faced eyeshadow palette: In my opinion, investing on good eyeshadows is worth it. You can get almost any natural look only with the shades in this palette. Also, they are really easy to blend.
L'Oreal aceite extraordinario: I love this product since I first tried it. There is nothing I don't like about it: the way it applies, how my hair feels, its scent… If you have dry hair, you will surely like it too.
Kiko mirror nail polish: These nail polishes are now on sale at 2.50 euros. I love how it reflects light, and blue has always been my colour.
Body shop tweezers: I got this so many years ago… that I can't even remember how much they were! They are just great, still work like the first day.
Elvive L'Oréal
I love max by Essence
Eyeshadow palette by Too faced
Neutrogena feet balm
Kiko mirror nail polish
Perfum Vuela by Mercadona
Mirror nail polish by Kiko gama mirror 624
Chubby stick de Clinique
Earrings by Atrio (Etsy online shop)
Blusher Wowzer by Accessorize
Tweezers by The body shop
***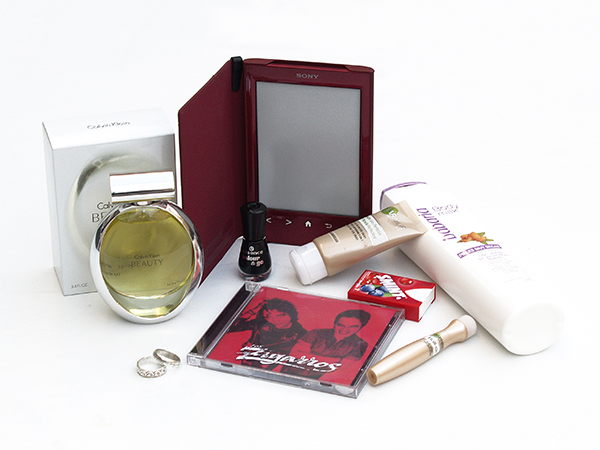 * CARMEN *
These are my must-have for this summer.
The most of them are my essentials for the whole year but thinking in summer2013 I want to stand out the black nail polish by Essence and the first CD by Los Zigarros.
In my opinion the best colour for my toes is black, but for my hands I prefer red, dark blue, purple, dark pink…
And talking about the disk of Los Zigarros…To be honest I always carry my MP3, because I love listening to music while walking! But this CD is new and really good… Rock and Roll, yeah!
Colonia Beauty de Calvin Klein
E-book Sony Reader PRS-T2
Black nail polish by Essence Colour and go
BB-cream by Garnier
Body cream by Babaria
SMINT sweets
Rings for my thumbs (The One ring)
Los Zigarros CD
Skin Renew Anti-Dark Circle Eye Roller by Garnier
***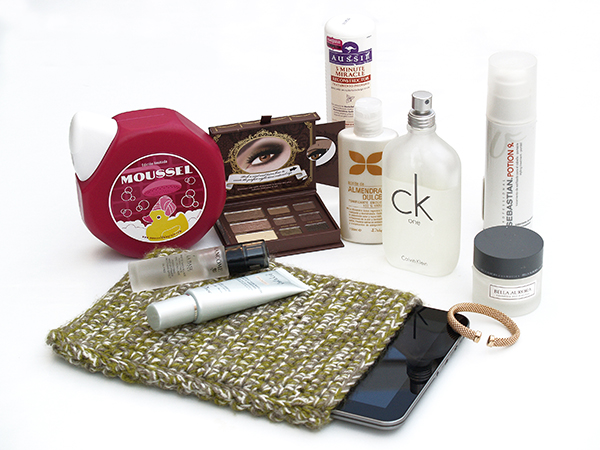 * MIRYAM *
Lancome primer
It's funny how a product you didn´t even know it existed, may become a must. When my Sila-partner gave it to me, I had to ask her what it was! And then once I tried it, I was delighted. Applied before makeup, it leaves your skin with such a nice touch (is oil free), smooth, and all you apply after that fits better. How fast you can get used to good things!
Aussie three minute miracle
Sum yourself: dry, very dry hair (and aggravated by color), little time for masks, and an amazing advertising campaign. So, after several months without opening a fashion magazine that didn't speak about this product, I decided to try it. And I have to say that his reputation is deserved. All the effect of a mask, with the convenience of a conditioner. And the packaging is so good, just squeeze and get the product from a valve at the base, without cover, thread or anything. A great product!!
Moussel of Legrain
One of my absolute essential. The great variety of shower gel that exists in the market has led me to try everything … and always end up coming back. I think it's the fantastic smell, or because it takes me to childhood … surely, because I remember it in the bathroom of my grandma. And packaging is so characteristic, wen I just just watch it on the ledge of my bathroom in the morning it makes me get into the shower so happy!!!
Moussel de Legrain
Eyeshadow palette Natural at night by Too faced
Three minute miracle by Aussie
Aceite de almendras dulces Deliplus
CK one
Potion 9 Sebastian
B7 cream by Bella Aurora
Lancome primer
BB cream de Dior
Cover for tablet by Silayaya
Bracelet by Aristocrazy
***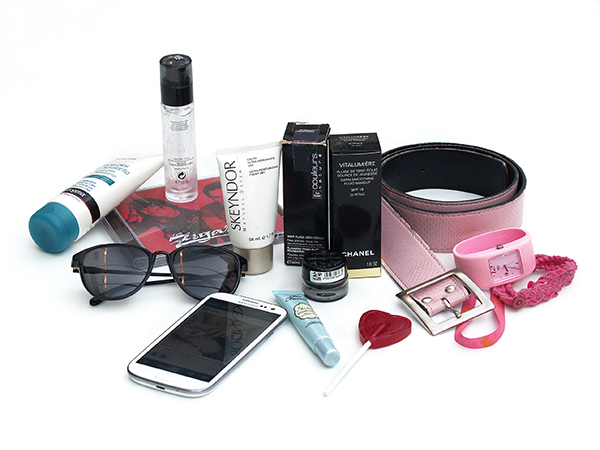 * MARIA *
I have repeated three products in my collection Neutrogena feet balm (in summer it's "the must"), La Base by Lancome, and a good RockandRoll disk such as the first one by Los Zigarros.
And now some of other favourites.
I never leave home without my sunglasses and my mobile phone in order to manage the social media for Silayaya. Besides, I need a good fluid make up, Chanel's price is 45€ and Yves Rocher's one 9€. Both of them are fantastic!
One of my latest favourite products is the gel eyeliner by Essence. Your eyes perfect for long hours especially if you start making up with the Shadow insurance by Too Faced.
I love heart lollipops! And The have to be represented in my sellection… :) The last one it's a repetitive concept in my outfits, I always wear something pink.
Neutrógena feet balm
La Base by Lancome (no longer available)
Music, especially RNR
Sunglasses
Cream 24h by Skeyndor
Fluid make up Couleurs Nature by Yves Rocher
Fluid make up Vitalumière by Chanel
Mobile phone
Shadow insurance by Too faced
Gel eyeliner Midnight in Paris by Essence
Heart lollipop
And somethink pink…
Which are your essential products? Have you seen some of them in these pictures?